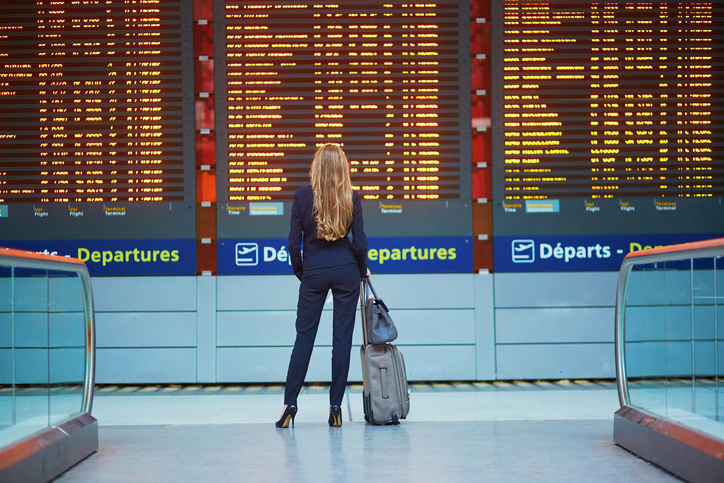 Are you hitting the road for work this holiday season? Nothing can be more stressful than delayed flights when your job is on the line, or getting stuck in holiday traffic en route to that important conference.
Based on the travel issues they're constantly monitoring and addressing, Upside Navigators have compiled the following list of 10 tips for DIY business travelers who don't have navigators watching out for them:
- Look at the 15-day or longer weather reports and consider rescheduling a trip if storms are projected.
- Take a smartphone screenshot of your confirmation emails and add them to your business travel calendar invites, or just keep them handy in your photo storage for easy access. Or, write your travel itinerary (flight numbers, hotel, contact numbers) on the back of a business card and keep it in your wallet or purse.
- Prepare a back-up plan. If the booked flight is cancelled, it pays to have some idea beforehand of what other flights and possibly ground transportation options are out there.
- Utilize secondary airports. Many cities have their major international airports as well as smaller airports located a few miles away. Airfares may be a bit higher at the smaller airports, but if it means less congestion, the extra dollars may be worth it.
- Have at least one travel app loaded onto your smartphone. Instead of standing in line at the ticketing counter, or waiting on the phone, many itinerary changes can be made in seconds with a travel app. Upside's travel app includes a one-touch option where travelers can use on their smartphones to immediately connect to a navigator.
- To start your trip, arrange a ride to the airport. Don't rely on being able to find parking once you get there.
- Book ground transportation from the destination airport in advance. Waiting lines for airport ground transportation can be especially long and time-consuming over the holidays. Better to have a car waiting.
- Pack light. If at all possible, travel with carry-on only. And pay attention to carry-on size limits posted by carriers, as well as space limitations often found on regional connecting jets.
- Make sure hotel reservations guarantee late arrival. That way, if there's a delay, your room will still be waiting.
- Confirm all flight times – and arrive early. Confirm flights the night before and again the morning of a flight, just in case there are any cancellations or last-minute delays. Also, arrive early, since security lines are likely to be long. It also might pay to consider enrolling in an expedited security clearance program, like TSA Pre Check.
Published with permission from RISMedia.